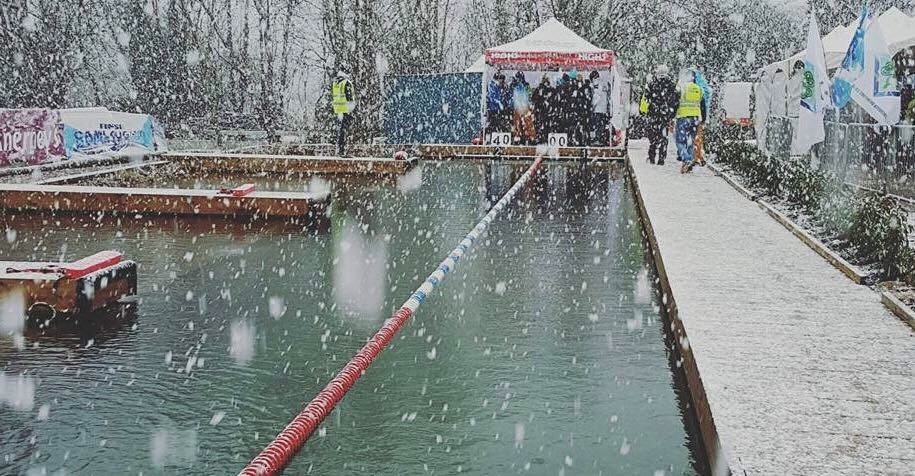 2016 IISA Ireland 1k National Championships Race report and official results
All ranking's are based on league tables on IISA 30/1/16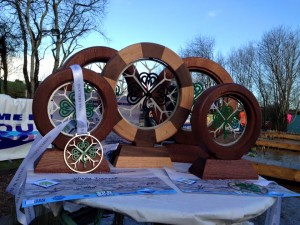 It is with great pride that the Camlough Lake Water Events Festival Committee in association with Wild Water Armagh can boast an amazing success of the 2016 International Ice Swimming association 1k National championships. 10 Countries were represented in these games including Ireland, Scotland, Switzerland, India, England, Poland, Germany, South Africa, Holland and Ukriane.
Event planning began after the success of the 2015 championships also held at Wild Water Armagh. The CLWF events crew worked diligently to ensure that all requirements the IISA constitution were met for race day. In the lead up to race all eyes were on the water temperature to ensure that it met sub 5 degrees requirements. Qualification swims were offered in all four provinces. The forecast was for snow but as with typical Irish weather there could be four seasons in one day so no assumptions where made.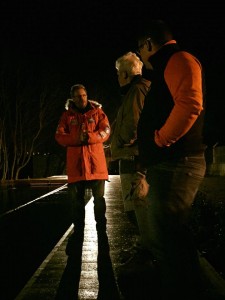 At 4am and again at 6am the water temperature was checked and at 6.30am there was icing for the cake as the snow started to fall. Air temperature 2 degrees and water temperature 4.5 degrees were measured and signed off by IISA race official Nuala Moore and President of the IISA Ram Barkai. The first of the swims commenced at 8am with ice milers Gillian McShane and Nuala Moore taking out the 40 lengths.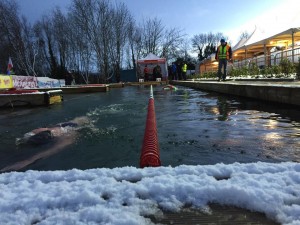 Recovery room crew were ready to accept their swimmers and they were in for a busy day with 40 swimmers on the race card. Highlights of the day included Swiss Sabrina Wiedmer who matched the time of the current World Record holder Julia Wittig set in Burghausen, Germany in a time of 13:58, she alongside Wendy Figures, Gus Cooney and Conor Turner set new age group records, Olive Conroy and Conor Turner being awarded a IISA National 1k champions title, Jack Boyle and Conor Turner only 4 weeks in ice swim training achieving fast times and the endurance of Peter McKenzie unable to compete in the 2015 games making an excellent comeback to successfully finish the 2016 1k event. The race card finished at 7pm with the Ice Sprint Championships including the 100m, 50m and 4×25 relay fast, furious and fun.
It is with the amazing crew, medical team, sponsors including M&M Services, Infinity Channel Swimming, TAYTO, Morgan Fuels, McAnerneys, HSS Hire, BMW, Cafe Krem, race partners and the entire community that this event is the success it can boast.
Thank you
2016 IISA Ireland 1k National Championships
Age group winners:
18-24 Female Olive Conroy Ireland
18-24 Male Conor Turner Ireland
25-29 Male Thomas O'Hagan Ireland
25-29 Female Sabrina Wiedmar Switzerland
35-39 Male Pádraig Mallon Ireland
35-39 Female Carmel Collins Ireland
40-44 Male Keith Garry Ireland 4th in the world
40-44 Female Tiffiny Quinn Ireland
45-49 Male Christof Wandratsch Germany
45-49 Female Nuala Moore Ireland
50-54 Male Stuart Hinds Great Britain
50-54 Female Wendy Figures Great Britain
55-59 Male Ram Barkai South Africa
65-69 Gus Cooney Ireland
2016 IISA Ireland National Championships Results
Overall Winners:
IISA Ireland 1k
International Podium:
Male                                                 Female
Conor Turner 12.44                         Sabrina Wiedmar 13.58
Christof Wandratsch 13.03              Wendy Figures 16.51
Keith Garry 14.36                             Olive Conroy 16.55
IISA Ireland 1k
National All Ireland Podium:
Male                                                    Female
Conor Turner 12.44                            Olive Conroy 16.55
Keith Garry 14.36                               Michelle Brooker 17.16
Jack Boyle 15.47                                Carmel Collins 17.20
IISA 1k World Rankings
Junior
Male                                                          Female
Ranked 1st John Glover 2015                   Ranked 2nd Olive Conroy 2016
18 – 24
Ranked 1st Conor Turner 2016
Ranked 2nd Jack Boyle 2016
Ranked 4th Thomas O'Hagan 2015 –
25-29
Male                                                                Female
Ranked 5th Thomas O'Hagan 2016               Ranked 2nd Michelle Brooker 2016
Ranked 3rd Rachel Doyle 2016
30-34
Male                                                                Female
Ranked 1st Lucas Kowalczyk 2015-               Ranked 3rd Ciara Phillips 2015-
35-39
Male                                                                Female
Ranked 5th Patrick Corcoran 2015-                Ranked 3rd Donna Cooke 2015-
Ranked 4th Carmel Collins 2016
30-34
Male                                                             Female
Ranked 4th Keith Garry 2016                      Ranked 5th Tiffiny Quinn 2016
45-49
Male                                                                Female
Ranked 5th John Ryan 2016                          Ranked 3rd Nuala Moore 2016
50-34
Male                                                                Female
Ranked 4th Francis Haughey 2015                 Ranked 2nd Sarah Meehan 2016
Ranked 4th Anne Morrow 2016
65-69
Male
Ranked 1st Gus Cooney 2016
1k IISA Ireland World Rankings within Top 20
Male
Conor Turner 2nd
Keith Garry 13th
Jon Glover 15th
Lucas Kowalczyk 16th
Jack Boyle 19th
Patrick Corcoran 20th
Female
Olive Conroy 11th
Donna Cooke 13th
Michelle Brooker 14th
Carmel Collins 15th
Rachel Doyle 17th
#seeyouintheice
#ifitsnotfunwerenotplaying
#onesportglobalfriendship
Official results
Ice Sprint Championships
50m
1st Pawel Rudzinski 30.02
2nd Jack Boyle 00.33:59
1st Olive Conroy 00.35.06
3rd Ram Barkai 00.36.46
4th Gary McCourt 00.43.90
5th Paddy Bond Snr 01.23.40
100m
1st Pawel Rudzinski Poland 01.14.00
1st Ruby Ireland 01.20.70
2nd Paddy Bond Jnr Ireland 01.20.78
3rd Jack Boyle Ireland 01.28.76
4th Francie Haughey Ireland 01.30.70
5th Joe Belton Ireland 01.33.99
6th Gordon Hamill  Ireland01.34.40
7th Alon Belestenko Ukraine 01.38.80
2nd Tanja VanLoon Holland 01.50.46
8th Mark McCallum Ireland 02.07.41
4×50 relay
1st  Dál Riata 210 SouthWest Ireland 02.18.21
2nd North Channel Infinity V Ireland 02.35.97
4×25
1st Team Milo Bahamas Ireland 01.02.86
2nd Donegal Surf Life Saving Ireland 01.28.90
'til 2017
All ranking's are based on league tables on IISA 30/1/16
#seeyouintheice
#ifitsnotfunwerenotplaying
#onesportglobalfriendship
#iceswimming