4th Eastern Bay Invitational Internatinal Nice Mile
There are extreme sports and there are extreme sports. On Saturday last (06 February) Dublin's famous Eastern Bay Swim Team invited twelve seasoned sea swimmers to beautiful County Wicklow 'to swim one mile in the icy dark waters of Lough Dan'. This site of national historic and cultural significance plays host to the annual Eastern Bay Invitation International Ice Mile Swim.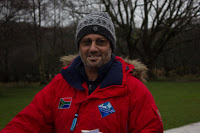 What does it take to swim an international ice mile?
Ram Barkai is the president of the International Ice Swimming Association; an organisation he established in 2009 and with it the blue ribbon of ice swimming; a one mile swim in togs, hat and goggles in water temperature of 5.0 degrees or less. In the previous three years water temperatures have offered 3.3, 3.6 and 3.8 degrees. This winter was mild and the water in Lough Dan could not be coaxed below a miserable 5.6 degrees on Saturay. Notwithstanding the water being too warm for official recognition as an 'international ice mile' the 13 brave swimmers turned up with requisite documentation confirming physical (but not other) capacity to take on the challenge. The course of 4 by 400m (plus a little more at the end) runs clockwise around buoys set out on the lake. Within the cordon of buoys rested 3 RIBs to provide emergency exit for swimmers that were unable to complete the course. Waiting lakeside was a Red Cross Ambulance and a vastly experienced medical crew led by Eastern Bay's Dr. Nichola Gilliland, Paramedic Dave Fitzgerald and Wicklow Mountain Rescue. While the water was too warm at over 5 degrees the air temperature was punishingly low at less than 6 degrees; the chill factoraided and abetted by strong Easterly winds and sleeting rain. Uncomfortable and all as an ice mile is it was warmer in the water than out. The swim was run in two rounds, first by 8 men and then by 5 women. Each swimmer had the close accompaniment of a kayaker and each wore an inflatable pull-buoy (fixed at the waist). The purpose of the pull-buoy is to mark the swimmer's location during the four laps and to prevent a swimmer from submerging in the dark and cold Lough Dan waters. The danger of ice swimming is twofold; particularly for inexperienced swimmers. The initial immersion in very cold water can cause a heart attack from the sudden change of temperature. Prolonged immersion brings one into the realm of hypothermia where the blood circulation tries to confine warm blood to the body core. The longer the immersion in water below 20 Celcius the closer hypothermia brings the body to shutting down vital organs. Succumbing to hypothermia is rumoured to be almost euphoric where the brain convinces the body that it is warm, very warm. Anybody will pass out in the latter stages of hypothermia; this can happen to swimmers to battling through water of 5 Celsius or less.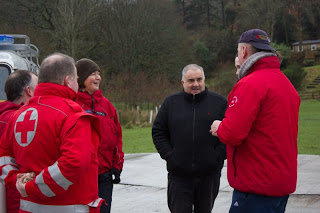 Eastern Bay provides an environment that focuses on safety of participants as well as spectators. Two ambulances and crew stood ready for every eventuality. Luckily, the calls for assistance ere reduced to rewarming tired and cold swimmers. This extreme sport is not a race. The swimmers are of different ages, speed, and bodyshape. Ice swimming is thought to favour skinny swimmers. In fact, it is kindest to fast swimmers. The swims were completed in times between 26 and 40 minutes. John Ryan of Limerick led the men's race from start to finish and led in a battling Fergal Somerville by a mere 4 second margin. John's time of 26:40 would credit any pool swimmer (in 27+ Celsius). Third home was guest of honour Ram Barkai, South African President of the International Ice Swimming Association, who attested to the difficulty of the conditions of wind and rain and the lack of comfort from water of 5+ Celsius. The oldest swimmer, Fergus Cooney, completed his first NICE mile challenge in 38 minutes and was followed home by Kevin Cooper, another NICE mile novice.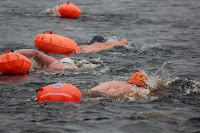 Five famous females took the water in a rain lashed gale that threatened to blow the inflated marker buoys to through the Wicklow Gap to neighbouring Blessington Lake. First home among the famous was Carole Laporte, a Belgian living in the Isle of Man and regular visitor to Eastern Bay's home base of High Rock in Malahide. Carole's time of 26:45 was the third fastest of the day and she was followed home by Dublin's Rachel Doyle in 28:45 and last year's fastest woman; Cork's ice mile cheerleader, Carmel Collins who broke 30 minutes in her third ice mile attempt (albeit in too warm water). Next home were Zimbabwe's Annette Daly in 38:10 and England's Pauline Barker in 40:54. Both Annette and Pauline have clocked up a number of ice miles in recent years but have travelled to Lough Dan for the past two years. Both admit to loving Eastern Bay's Invitation International Ice MileSwim almost as much as they do the fantastic hospitality put on the host club and all the supporters.
By mid-day the swimming completed, buoys deflated, marquee taken down and kayaks put up on roof racks Declan Proctor presented Ram Barkai with a commemorative plaque to remember his first visit to Lough Dan. Ram Barkai presented each swimmer with a specially commissioned trophy to mark the marathon effort of swimming one mile in 5.6 Celsius. The swim is not recognised as an official ice mile in the IISA record books.  None of the swimmers minded this. They trained over the winter, swimming more than one mile per week in the open water to prepare for this challenge. A swim is a swim and next year many will back to take on Eastern Bay's 5th Invitation International Ice Mile Challenge.

Super photo by Siobhan Russell of Crosshaven fame. Left to right is Carmel Collins (Cork), Carole Laporte (Isle of Man), Noel Browne (Cork), John Ryan (Limerick), Pease Ryan (Limerick), Fergal Somerville (Dublin), Ram Barkai (South Africa), Pauline Barker (England), Rachel Doyle (Dublin) and Annette Daly (Zimbabwe).
4th Eastern Bay Invitational Internatinal Nice Mile
The swim is an annual event organised by Eastern Bay Swim Team, Dublin, but could not take place without the support of Lough Dan Scouts Centre, Red Cross, Wicklow Mountain Rescue, Lir Kayakers (Kildare), Green Tiger, Dublin City Council, Swim Ireland, Irish Water Safety and. A whole host of support from fellow club members and friends.
Source http://fergalsomerville.blogspot.co.uk/2016/02/4th-ebiiisa-nice-mile.html