FB – https://www.facebook.com/groups/801114200062239/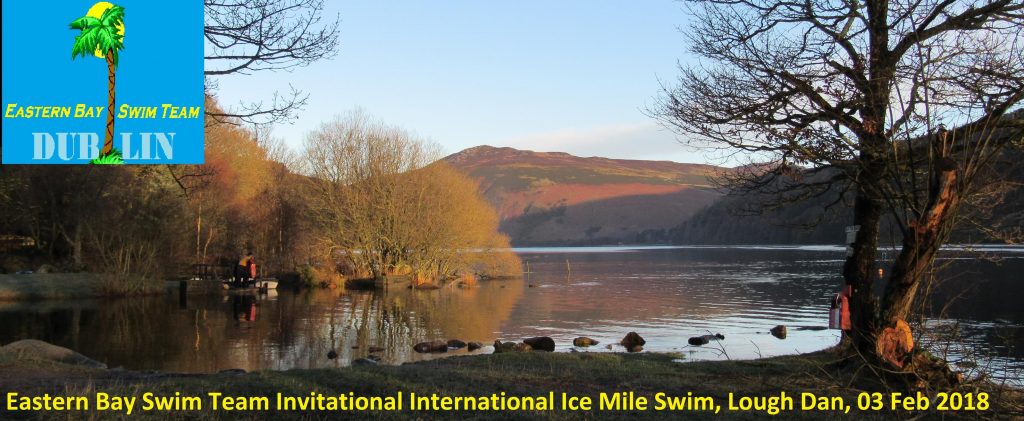 This day next week the biggest ice mile event of the year takes place. Again, we welcome a strong contingent of Irish and International Ice Swimmers. The swim starts at 10:30am from the lakeshore at beautiful Lough Dan. We are again indebted to the Lough Dan Scouts for allowing us again to run the Eastern Bay Invitational International Ice Mile Swim. The swim would not happen without the contribution of so many of the friends and family of Eastern Bay Swim Team. We will have over 100 at the swim to watch  over a mere twenty swimmers. To pull just few names from the hat I want to thank my Eastern Bay team-mates, Irish Red Cross, Dublin City Council, Green Tiger, Irish Water Safety, Wild Water Kayak Club, Outdoor Swimmer and Swim Ireland and so many individuals that if I name any I'll leave loads out and be in trouble.
We welcome all visitors to come along and watch this amazing event. If you are coming, please come early. To protect the meadow area and pathway only safety boats and kayaks may be driven beyond the designated car park area. So, enjoy the walk to the lakeside and the spectacle of the swim.
Remember, you are coming to watch Ireland's premier ice mile event. It will be cold and windy and (hopefully) dry. Please bring along one or two flasks (you're welcome to share with our swimmers and visitors).
Our 20 swimmers this year hold between them 10 English Channel Swims (including 1 two way), 4 North Channel Swims, 2 Ironmen (one of them is an IronWoman), a number of the world's other Channels, multiple previous ice miles. (We are very grateful to those of you who will be with us (in person, online and in spirit) next Saturday and who have crewed and supported us on our many swimming adventures.
We will tell you all how much we appreciate you when we get home and in Mulligans, Poolbeg Street on Saturday evening (from 8:30pm).
See you Saturday.
Fergal & the team of 100+
Blog – http://fergalsomerville.blogspot.ie/
FB – https://www.facebook.com/fergal.somerville
6th – https://www.facebook.com/groups/801114200062239/
Cool Links
I swim because I love to swim – Documentary film by Shane Caffrey https://vimeo.com/145572108
My You Tube Swim Videos – https://www.youtube.com/channel/UCtR_RajjrV6Ig9j0GUrBv3A
Howth to Skerries Swim 08 July 2016 – https://www.youtube.com/watch?v=cHDmtKeXeoY
5th Eastern Bay Ice Mile (2017) A Swim film by FJS https://youtu.be/JNG_Qb_PR-I
4th Eastern Bay NICE Mile (2016) A Swim film by Vanessa Daws https://vimeo.com/156270670
3rd Eastern Bay Ice Mile (2015) A swim film by Vanessa Daws https://vimeo.com/123899192
2nd Eastern Bay Ice Mile (2014) Another swim film by Vanessa Daws https://vimeo.com/87483462
1st Eastern Bay Ice Mile (2013) https://www.youtube.com/watch?v=sgTAoQ4cwUM
Extreme TV Documentary preview https://vimeo.com/111223570